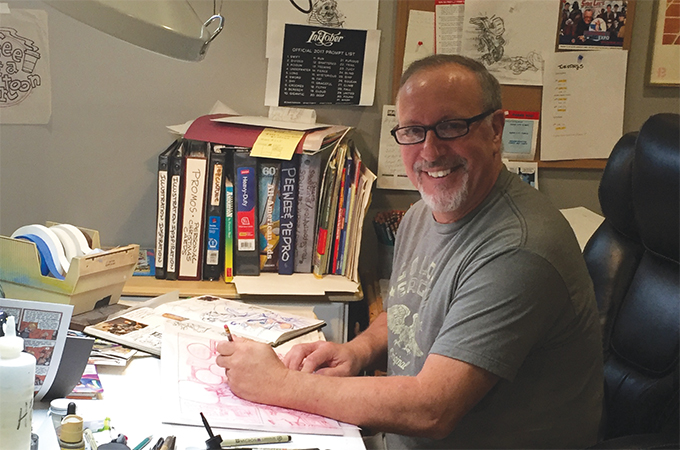 My Story
This is what I've always wanted to do. I don't remember a time when I wasn't drawing funny pictures. As a child, I was completely caught up in anything that had to do with cartooning, comic strips, comic books or animation. Untold numbers of notebooks and sketchpads were filled with drawings of Fred Flinstone, Bullwinkle and Batman, as well as many of my own creations. 
That passion continued throughout my teens. I enjoyed music, baseball and football, but art was always my #1 passion. I graduated from Youngstown State University (Go Penguins!) and took a variety of courses at The Columbus College of Art and Design to round out my formal training. 
My first professional art jobs included doing ad layouts for a small publishing company and in the art department of WCMH-TV in Columbus, OH. Loved creating news graphis, but unfortunately there weren't a lot of funny things going on in the news. It didn't offer me a lot of opportunity to use my cartooning skills. Next stop … Gibson Greeting Cards in Cincinnati. A great place to create humorous illustration full time and in full color! As I worked there during the day, I was picking up more and more freelance assignments which I worked on during the evenings and on weekends. I was burning the candle on both ends and had to make a decision, and that was to become a full time freelancer.
That brings us to today. I've spent decades working in almost every possible cartooning/illustration disipline.  It took a lot of hard work to make it and even more to maintain a career in this highly competitive field. I count myself extremely fortunate to be able to make a living doing something I love.